The Living Room ~ Article #1 ~ 2.4.22
By Kathy Keene – Library Director
Change is good. Sometimes we have to remind ourselves that this is simply a fact. Maybe you're thinking, "I've had enough 'change' over the last two years, thank you very much." I get it. Covid has caused all of us, in every age group, to bend in directions we never thought possible. Ever the optimist, I choose to remind myself of the good that has come of these challenging times, especially when it comes to libraries. The Living Room.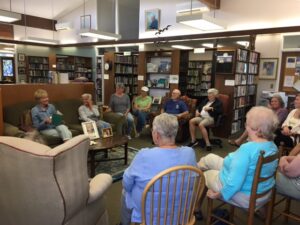 I have always valued my local library's place in my life and in my community, but never as much as I have since Covid hit. Your local library can become a resource for you in more ways than simply lending you a book or the latest television series on DVD. Let's take the Chocorua Public Library, for example.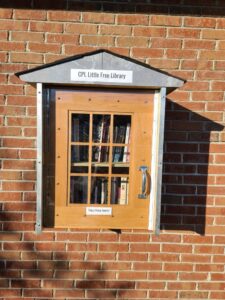 Are you aware that anyone living in Carroll County is eligible for a library card from our cozy, little "living room?" That's what many locals call it…their living room. We are the only local library open Sunday. When we are not open, pop over to see what might be of interest in our Little Free Library attached to the building by the front door. I noticed there was a copy of Tara Westover's Educated there the other day.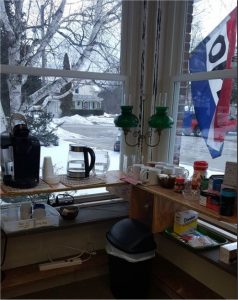 The coffee and tea are always ready to brew, and puzzles and games are available for play. Currently, we have a league quality Skittle Ball game set up, straight from London for all ages to enjoy. We have many STEAM kits ready for your family to enjoy on-site or to take home. STEAM is the acronym used for science, technology, engineering, arts, and mathematics. These kits are a perfect way to intrigue your child to leave the screen behind for a few hours. More on that later, but come in and take a peak. On Monday evenings, the Stash Busters group sits and knits or engages in other handicrafts for about an hour, comfortably distanced, yet conversation flows.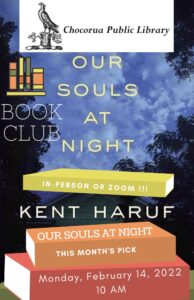 Beginning this month on February 14th, we will be the home of an in-person and Zoom book discussion group that will meet one Monday every month at 10 AM. We will have the Library to ourselves, as we are not open to the public at that time. Drop by for a copy of Our Souls at Night, by Kent Haruf, and join us in conversation about a book you may not otherwise have thought read. If you have access to the Consortium formed by the Jackson, Conway, Madison, and Cook Public Libraries, stop into Conway's and grab a copy of this short and delightful read and join us.
Remember to stop into your local library for the change you need and consider adding Chocorua as an addition to your new routine. For more information about the Chocorua Public Library, the little gem by the Lake, or a Zoom link for the book discussion or other programs, contact Director Kathy Keene.