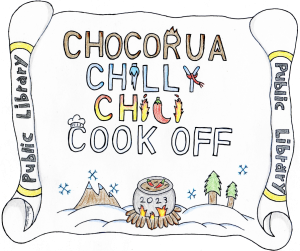 Chili Cook Off Rules
General Overview
There is no fee to enter this event. 

The Tamworth Lyceum has generously donated their venue for this event and will be offering a cash bar for guests and contestants with event themed Cocktails and Mocktails. 

If entered in the Chocorua Chilly Chili Cook Off held on March 4th from 12:00-3:00p, you are required to prepare your chili recipe prior to the event. Access to electricity will be provided  at the event to keep your chili at the proper temperature until served. Crockpots and roasters are required and will not be supplied by event organizers. 

Each participant is asked to supply roughly

3 gallons

of chili for the event. There is no reimbursement for material costs and we thank you for your generosity and your time. 

All contestants agree to comply with in-home food safety guidelines as your chili will be served to the public. These guidelines can be found at

https://www.fda.gov/consumers/free-publications-women/food-safety-home

Due to limited space we are

only able to host a limited number of contestants. Slots will be on a first come first serve basis. Once at capacity any subsequent entries will be placed on a waiting list. 

Deadline for entry is February 24th, 2023
Event Organizers will provide the following: 
Tables

Chairs

Gloves

Sampling cups, spoons, & napkins

Hand Sanitizer

Trash Cans
Contestants will supply their own: 
Warming Vessel (crockpot, roaster, etc) 

Utensils to stir and serve your chili (3 oz samples will be served to the public) 
Sanitation at Event: 
Hands must be washed and sanitized. 

Rubber gloves are encouraged to be worn when serving chili. 

Participants are encouraged to wear hats
Cooking Rules: 
All contestants are responsible for maintenance of the Chili's proper temperature during the event. 

Use your favorite recipe with or without meat, with or without beans. 

Vegan or Vegetarian chili is accepted, 

Ingredients must be provided to the library prior to the event so they can be posted during the event. This is due to food allergies. Ingredient lists can be emailed to librarian@chocorualibrary or dropped off in person. Deadline for the ingredient list is February 24th as well. 
Voting and Prizes: 
Each contestant is asked to  name their Chili the more creative the better.

Each entry ticket will receive 3 voting tickets which they will use to vote for their top 3 choices. 

1st place awards for each category

Kids under 16

Amateur 

Professional 

Prize for overall Grand Champion
Chili Cook Off Schedule 
Indoor Set up begins at 11:00 am. Chili must be ready to serve at 12:00pm 

No Late Entries 

3:15 Winners announced. 

Event Address: 85 Main Street Tamworth, NH 03886

Parking Available across the street behind town offices.