My Antonia
From Our Living Room to Yours:
Article #2
~ February 25, 2022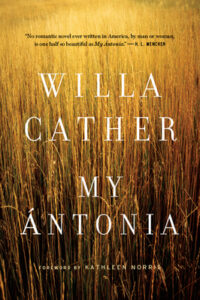 There's nothing like a snowy day to send you to your own bookshelves looking for something entertaining to read until you can get outside to move snow, or actually enjoy what Mother Nature has delivered. I happened to find a copy of My Antonia, by Willa Cather awaiting me on my shelf during the last storm. What a joy to revisit, or discover, the classics!
If you do not have any idea of how to begin a classics adventure, come on down to the Chocorua Public Library's living room. We will put the kettle on and serve you up a few novellas or tomes, whatever your interest level or spare time dictates. Have you ever read Betty Smith's, A Tree Grows in Brooklyn? Generally, it is on the list of the top 100 books you should read in your lifetime, and it is a personal fave. Steinbeck's, Of Mice and Men, caused quite a stir in my last English class for Carroll Academy, and Edith Wharton's, House of Mirth, might be my next re-read. Even if you once-long-ago read any of these, a revisit would be a great experience.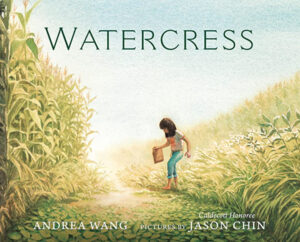 If your focus these days is getting your children away from screen time, come see my colleague, Suzanne Morgan's, display of classic children's literature. Yes, we love Mo Willem's and have recently added half dozen new copies of his delightful children's books to our collection. We also have the latest children's literature award winner on its way to us, Watercress, by Andrea Wang. This story just won the Randolph Caldecott Medal as well as being a Newbery Honor book, making it a distinguished American picture book for children. That said, we also have classics for kids, that may have once entertained your parents and grandparents, available for check out.
In other news, we are proud to be partnering with the Gibson Center for Senior Services in their quest to supply senior citizens in need, with computers. The goal is to mitigate isolation for our patrons of a certain age group. Access to the Internet via a tablet is invaluable when one needs to connect with doctors, family, and friends who are not nearby. We have Chromebooks on hand and will make time to help you learn to use one. Thanks to a grant from the National Library of Medicine, earned by the Gibson Center and the Conway Public Library, Dr. Marianne Jackson has generously offered to partner with us in this effort.
So, come share a cup of hot chocolate with us and peruse the shelves for a very short or very long classic read, as we get through the next few weeks of winter together. Contact us with any comments or suggestions.
My Antonia, Classic books, Book clubs, Tamworth Library, Library near me, Mount Washington Valley, White Mountains